Bullying: What the Current Laws Means for You and Your School
Presented by David Shaman, Anti-Bullying Expert

Anti-Bullying Workshop
New Jersey has some of the toughest anti-bullying legislation in the country. Among its many provisions is the requirement that every certified educator must complete two hours of training in each PD cycle. This workshop will train school personnel on the inís and outís of the legislation focusing on what teachers, administrators and board of education members need to know.

This workshop fulfills the state requirement for 2 hours of training in each professional development cycle.

10 Things You Will Learn in this Workshop
Overview of the your state's Anti-Bullying Legislation
Definition of Harassment, Intimidation and Bullying (HIB)
Investigation procedures & incident reporting protocols
Updated suspension and expulsion guidelines
Responsibilities--what you need to know and do:

Board of Education Members
Administrators
Teachers and Support Staff

Liability considerations and penalties for noncompliance
What the Employment Disqualification Amendment means to you
Requirements for School Safety Teams, Anti-Bullying Specialists and Coordinators
Bullying prevention programs and approaches
The importance of changing your school climate and culture
The Full-day Workshop Will Feature Hands-on, Interactive Activities Including
Fifty ideas for improving your school climate
Strategies to empower educators
Success Stories

About Your Presenter
David Shaman, an engaging and enthusiastic speaker, has been leading Bullying Prevention workshops since 2006 as part of his acclaimed School Peacemaker Program. In Davidís 20+ years as a trainer, he has mastered the art of hands-on instruction, easily reaching participants with varied learning styles. A Master of Qigong and Kung Fu, he also conducts Personal Empowerment and Self Defense seminars.

Testimonials
"David Shaman understands the subject of Harassment, Intimidation and Bullying. He presented the new state statute, gave examples of how other schools are dealing with this problem and then engaged my staff in meaningful dialogue on ideas that we can try here in our schools. This was an in-service that was relevant and engaging, and the response from staff members was overwhelmingly positive."
~ Superintendent
"The in-service on the new studentís bill of rights presented by David Shaman was very informative and provided opportunities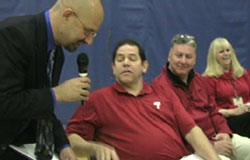 for teachers, paraprofessionals and specialists to interact and collaborate together in a very meaningful way."
~ Administrator
"The workshop was very informative and exceeded my expectations. It offered many ideas to create a positive environment in a school setting."
~ Teacher
"Great workshop, hopefully all of the terrific ideas can be compiled and utilized in our school. We need to be the change for our students!"
~ Teacher
"Excellent, one of the best workshops I have attended."
~ Teacher

Who Should Attend
Teachers, Teaching Assistants, Behavior Intervention Specialists, School Counselors and Psychologists, Support Staff, Administrators and Board Members

Bring this Anti-Bullying Seminar to Your School or District
Request a free quote or call 609-626-3594.

About Inservice Solutions
We offer on-site K-12 inservice training for schools that is rich in content, smart and stimulating. Most professional development workshops can be presented in a multi-day, full-day and half-day format. We also offer follow up sessions where your teachers can refresh and fine tune what they've learned.

Browse our Other Workshops

Reserve your Anti-Bullying Inservice
Request a free quote online or call 609-626-3594.